Written by
Neha Tiwari
  | 
Updated on Jan 11, 2023   | 
19.9K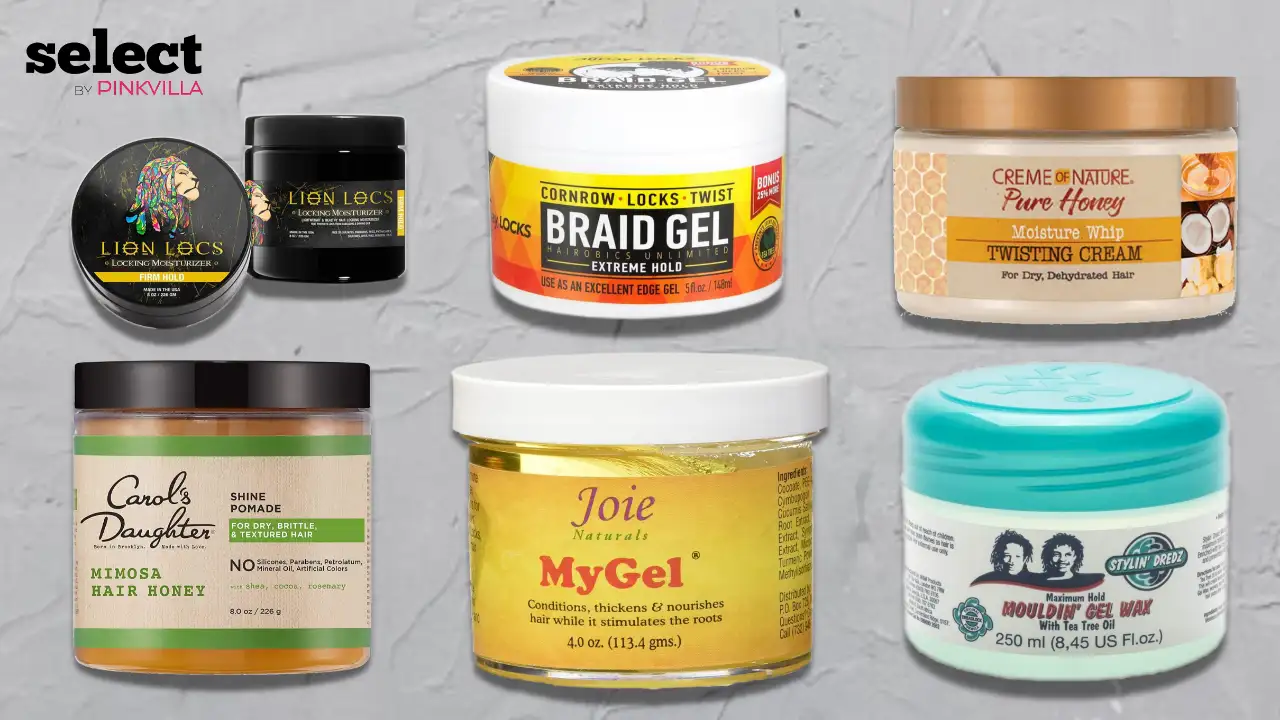 The products curated for this article are independently chosen by the
editorial team. If you make a purchase through the links mentioned below, we may receive a commission. Check out our product
research & curation process
Before the best gel for dreadlocks was crafted, ancient remedies were considered the most.  Dreads have had a long history when they were first worn in 1200 BC by the emperors and pharaohs of Egypt. Some perceived the hairstyle to be a sign of wisdom and knowledge entrapped in their minds and hair as spiritual energy enforcers. Though there wasn't any supremo hair gel for dreadlocks available, they use ancient remedies and ingredients like aloe vera to maintain their hair without any harmful chemicals."To tell you the truth, all you gotta do is leave it, wash it, and don't comb it. Keep it clean and it will dreadlock itself," said Bob Marley when asked about his dreadlocks and how to care for it. I wish this quote could actually still work now but with climate change, water is just not enough.
Well, since we can't go back to the past for simpler solutions, let's make our future better. The selection of the best hair gel for dreadlocks is right before you, as we have scrutinized each ingredient to get you the best option. To avoid parabens and sulfates, try organic and natural ingredient-based gels that could give better treatment to your hair. Being unable to maintain and style your dreads, can be dreadful and difficult! Well, don't overthink it and throw those worries down the drain. Check out this budget-friendly and essential list of the top 10 best hair gels for dreadlocks.
10 Best Gels For Dreadlocks on a Pocket-friendly Budget
If you are looking for something that deeply nourishes and conditions your locs, then African Pride Black Castor Miracle Gel is your safest bet! With a whopping 10k+ positive reviews, on natural ingredients and hair smoothening the product works like a charm on each loc you got. It doesn't contain artificial fragrance and works with natural ingredients like castor oil and coconut oil that reduce flakiness and keep the hair edge in control. It's one of the best dreadlock gel on the market today.
Pros
Natural ingredients
Sulfate-free
Paraben-free
Mineral oil-free
Value for money
Cons
Leaves a white residue after drying
Requires better packaging
2
Best Unisex Loc Gel for Dreads
SoftSheen-Carson Let's Jam! Condition & Shine Gel
The SoftSheen-Carson Let's Jam Gel provides a reliable hold and a silky finish without flaking or leaving residue behind. The styling product suits all hair types: curly, wavy, natural, transitioning, and more. With over 110 years of tradition and hair care formulas, SoftSheen Carson has provided beauty to all consumers of African descent with tailor-made, superior products and services designed especially for their needs. It is one of the best locking gel for 4c hair out there. Now, it's easier to twist your locks and tame the frizz with the Shining and Conditioning Extra Hold formula of SoftSheen Carson Gel in your kit!
Pros
Alcohol-free
Paraben-free
Natural ingredients
Cons
Sticky
May melt in the sun
3
Best for Dry Hair
Carol's Daughter Mimosa Hair Honey Shine Pomade
Carol's Daughter Mimosa Hair Honey Shine Pomade is the one answer for dry, brittle, and textured hair which require maintenance asap. Filled with the refreshing scents of citrus and honey and infused with the healing properties of shea, rosemary, and cocoa. The unique formula tames frizz and eliminates flyaways, making the styling of box braids and dreads easier by the second. The Pomade gel for dreadlocks provides maximum gloss and shines to your braids and locs with minimum effort.
Pros
Brings shine
Smells great
Perfect for box braids
4
Best Preservative-free Gel
Lion Locs Locking Moisturizer
The Lion Locs Locking Moisturizer holds and tames your locks. The all-natural lock gel is infused with aloe vera, hydrolyzed wheat protein, lavender oil, ylang-ylang (citrusy ingredient), and argan oil. The gel consists of handpicked organic ingredients that nourish and fortify your mane. This loc gel for dreads settles in deep, spreads the cuticles, and seals in moisture. It stops breakage, brings gloss and shine, and eliminates frizz without excess buildup on your scalp.
Pros
Paraben-free
Sulfate-free
Silicone-free
Mineral oil-free
Phthalate-free
Artificial dye-free
Cons
Causes stiffness in a short period
5
Best Non-Sticky Gel
AllDay Braid Gel Extreme Hold
With the AllDay Braid Gel, cornrows, dreads, and locks can be successfully styled and braided. The miracle gel is made with enchanting ingredients like lavender, peppermint, witch hazel, and sage that energize and bring a glow to your locks. Itchiness, flakiness, and dryness are the worries of the past with AllDay Locks Braid Gel. Apply on two sections of hair and let the magic unfold to eliminate frizz and tangles. The lock gel for dreads also doubles down as an edge control when needed.
Pros
Non-sticky
Eliminates frizz
Smells great
Paraben-free
6
Joie Naturals MyGel
Joie Naturals hair gel promotes nourishment to your hair shafts and gives it a thick and healthy look. The well-balanced formula creates the right amount of moisture and shines for your hair in every application. It's enriched with organic oils and ingredients like ginseng roots, turmeric powder, aloe leaf extracts, and fruit extracts. The perfect product for the ones who love braiding their hair and keeping it soft and thick.
Pros
Moisturise
Organic ingredients
Repairs hair breakage
7
Creme Of Nature Pure Honey Moisture Whip Twisting Cream
Give your hair the heavenly goodness and soft texture of pure honey with Creme of Nature Pure Honey Moisture Whip Twisting Cream. The ingredients that create this luxe product are coconut milk, mango, shea butter, acai berry, and keratin. It's a great product to treat dandruff and itchy scalp and protect it from hair breakage. The honey and argan oil in the mixture provides a sheen and nourishment to your lovely hair in every whip.
Pros
Anti-dandruff
Sulfate-free
Mineral oil-free
Silicone-free
8
Stylin' Dredz Mouldin' Gel Wax
To strengthen your hair and give it essential care, try the Stylin' Dredz Mouldin' Gel Wax enriched with the goodness of tea tree oil. Tea tree oil is considered the best ingredient to mold your hair with care and bring the desired texture for locs. With glycerine, it cleans and moisturizes the scalp and helps in preventing hair fallout within weeks. This molding gel wax is perfect for all hair types and every kind of hair texture.
Pros
Natural ingredients
Non-greasy
Preservative-free
9
Jamaican Mango & Lime Locking Hair Gel
The Jamaican Mango & Lime Locking Gel delivers a reliable hold and a velvety finish without flaking or leaving a patchy residue. Moringa seed oil and manuka honey are great ingredients that sustain the quality of hair. These organic ingredients aid in reversing hair damage and bolster hair follicles. Brittleness and hair breakage are the worries of the past by keeping your locks shiny, smooth, and healthy. This locking gel shields all hair types and textures from split ends too! It's one of the best locking gel for dreadlocks.
Pros
Organic
Sulfate-free
Silicone-free
Color-free
10
Umberto Giannini Curl Jelly
Lo and behold, the savior of curly, bouncy, and shiny hair Umberto Giannini Curl Jelly. It adds definition and volume to hair and banishes frizzy hair. Apply some Curl Jelly through mid-lengths and ends and scrunch dry your hair, to get the frizz-free hair we all want so badly. It's water-based and consists of innovative ingredients that bring bounce and shine to your locks. It is the ideal choice for ones with wavy, curly, and coily hair textures.
Pros
Cruelty-free
Vegan
Silicone-free
Great smell
How to Apply the Best Gel for Dreadlocks
When applying the gel, cream, or wax products to your dreads, one must be aware of the same tendency to get runny when disclosed to direct heat and the sun. If traveling or working outdoors during the day a lot, choose gel products that remain intact when applied even in immense heat.
a) First, begin with taking a finger-sized amount of gel in the palm. Rub the gel together smoothly and apply the gel in the direction from the roots to the ends. This helps in holding the texture of hair in an instant.
b) Do not overlayer the gel, keep it smooth and consistent on each hair strand and dreads.
c) Try not to put your hands through your hair instantly, let the product set in and lock your dreads.
d) After an hour, with the help of your hands go through your hair and style as wanted.
e) To fix flyaways, utilize a tad of the gel product and settle it with your hands or brush to set them in place.
How to Pick the Best Gel For Dreadlocks
Choosing from a variety of gel products for your dreads can be confusing, but adding these amazing gels to your arsenal is the correct way of caring for your hair. The pointers below will give you a heads-up on how to choose them correctly for yourself.
Strength: The product's hold and texture should match your hair's health and strength. Using strong ingredients and products on dreads can damage the hair and doesn't bring the desired effect.
Ingredients: Always check the labels on the products to see which ingredients bring their A-game to the dreadlocks style. As mentioned before, tea tree oil is the best ingredient for oily hair to tame and maintain the locks easily. These insights, help you choose based on your hair type and style.
Brand: Not every expensive brand has the best for you. Do not check the price but the credibility of the brand and their products for the correct get for dreadlocks.
Fragrance: When applying the product, you must know that the smell of the product lingers on you for a long time. It's a process and if you do not like the smell of the product, you might discontinue using it together. See what suits your hair and your olfactory senses at the time.
Our hairdo, like our bodies, allows us to express ourselves. A well-maintained hairstyle represents your preferences and demonstrates your uniqueness. Dreadlocks are one of the most culturally defined and notable hairstyles accessible, and we must not overlook the requirements needed to obtain this look. Dreadlocks are difficult to keep up, but when you do, they look stunning. African Pride Black Castor Miracle and SoftSheen-Carson are two hair care brands that bring the perfect hairstyle with pride and confidence. To improve hair quality and style, we recommend avoiding silicone-based gels. Instead, choose oil and water-based gels, which have been shown to be the finest hair gels for dreadlocks and will make your hair shine and gleam. Have fun shopping!
Author BIO
Neha Tiwari, a certified Haircare coach, an experienced writer, educator, translator, and editor, has been catering t More
FAQ's
What is the best gel to use for dreads?
African Pride Black Castor Miracle Extra Hold Braid, Loc, Twist Gel is the best gel to use for dreads as the formulation is all-natural and nourishing for hair.
What gel to use to start dreads?
Jamaican Mango and Lime Locking Hair Gel work miracles when used to start dreads and locs.
Do you need locking gel for dreads?
Yes. The locking gel helps in holding the hair and eliminates frizz by maintaining it the best.
Is aloe vera gel good for dreadlocks?
Yes. Aloe Vera gel for dreadlocks helps in encapsulating minerals, and moisture bringing natural luster to hair. It's one of the best gel ingredients for your dreadlocks.
Why Trust select
Neha, the author of this article, carefully curates structured content to help our readers gain all the knowledge they require. Her expertise lies in the field of haircare and styling, and she's passionate about researching the best products available across online platforms. Here, she has suggested a list of some of the best gels for dreadlocks that will make it easier for you to manage and maintain them better.
Our product experts study the specifications of every product we suggest and try them out to bring what's proven to be worthy of your money, time, and energy. We also have subject matter experts from various fields like Fashion, Skincare, Haircare, Home Decor, and Health & Fitness onboard to make sure our suggestions are credible and trustworthy. You can trust select to be your faithful shopping guide for all the right reasons!