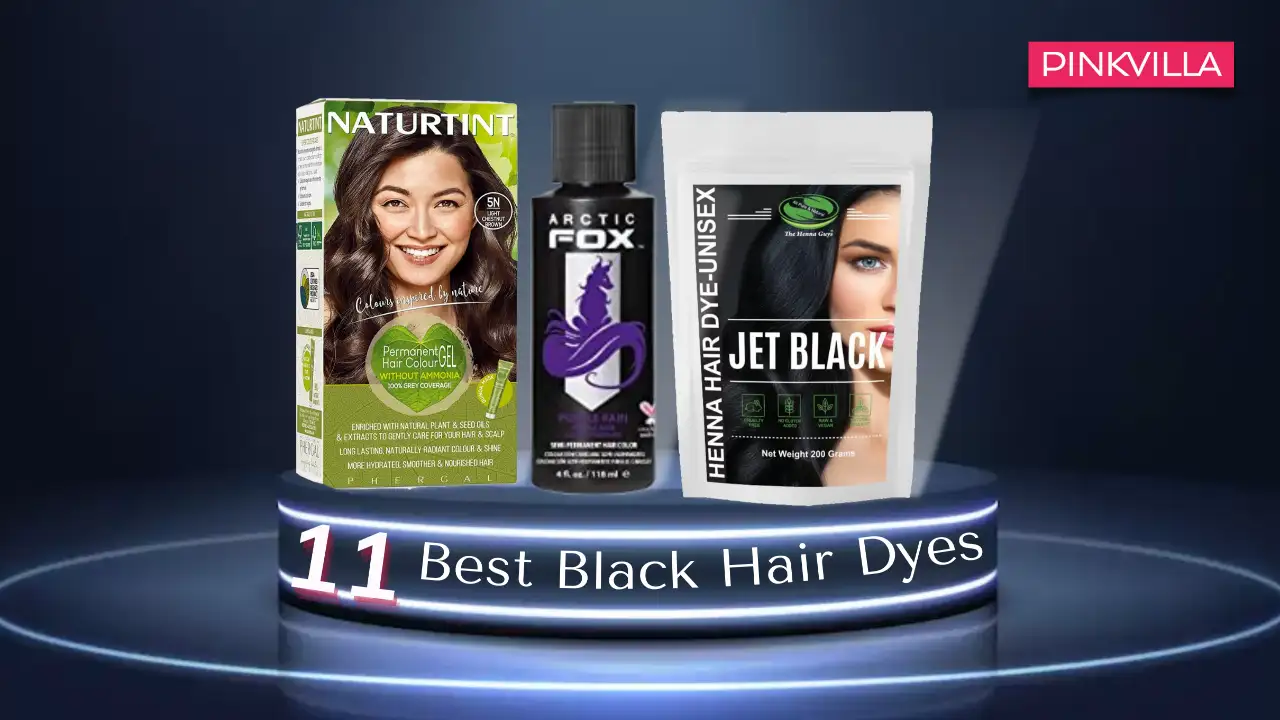 The products curated for this article are independently chosen by the
editorial team. If you make a purchase through the links mentioned below, we may receive a commission. Check out our product
research & curation process
The idea of going dark on your strands or renewing their color can be quite intimidating, especially if it is the first time you are doing it yourself. But now you can choose from a collection of the best black hair dyes on the market to transform your nightmare of coloring your hair black into a daydream that makes your locks look stunning. 
It is important to invest in a hair dye that complements your skin while minimizing potential damage, whether you prefer a subtle shade of black or a dramatic raven mane. All you need is the perfect at-home hair color kit if you're ready to rock a dark new shade. Take notes as we discuss the best black hair dyes to use at home for a fraction of the cost of a salon visit. The majority of drugstore dyes now include a conditioner too, to keep your hair nourished and shiny while maintaining color luster for weeks, even after multiple washes and heat styling. Read this list of the best black hair dyes to pick the one that suits you the best.
11 Best Black Hair Dyes for Shiny and Natural-looking Hair
Transylvania hair color by Arctic Fox is a semi-permanent, long-lasting direct dye that conditions your hair, leaving it feeling moisturized and stronger. A variety of base hair colors will work well with this jet-black color that has a blue undertone. But on hair that has been lightened to level 7 or less, this color will show as the darkest, truest black. It has a highly pigmented color formula that was developed after two years of diligent research and development with the goal of reducing any color bleeding and staining. So you don't really have to worry about dirtying your clothes or looking like you painted your face while dying your hair.
Pros
Ammonia-free
Cruelty-free
Long-lasting
2
Best Long Lasting
Garnier Hair Color Nutrisse Nourishing Creme
Blackest Black, a shade of Garnier Nutrisse Nourishing Color Creme, provides absolute gray coverage with its rich, opulent, and strong black color that lasts long. A color boost technology and triple fruit oils—avocado, olive, and shea—have been added to the formula to improve its effects further. These nourishing components are combined to create a rich, drip-free creme formula that gives the hair a dark, permanent color. Additionally, the hair is nourished by the grapeseed oil in this hair color. When you use this dye to color your hair, it also becomes stronger and more hydrated.
Pros
Easy to use
Long-lasting
Contains oil ampoules
3
Most Pigmented
Schwarzkopf Color Ultime Hair Color Cream
Schwarzkopf has come up with a formula called Color Ultime that provides vivid color intensity to hair. If you're looking to color your hair black, this dye makes sure that you have hair as black as the night sky and that too with a shine like the stars. It improves the hair texture and enhances one's natural pigment. The Color Ultime box comes with an application bottle, a developer lotion, one tube of color, and one tube of conditioning treatment. It also has a leaflet that provides thorough instructions on how you should color your beautiful hair.
Pros
Fade-resistant
Instant-results
Dermatologically tested
4
Adore Semi-permanent Hair Color
Adore's jet-black color is a semi-permanent dye that gives your natural hair a high-impact color. This dye can also be applied to humain-hair wigs, that models and celebs use. Most of us run away from ingredients that harm our hair health. Peroxide, drying alcohols, and ammonia ruin our hair but this dye has been made without any of these harmful ingredients. In this line of dyes, you can find just about any color you're looking for, from natural colors that are dark or light, to fancy and trendy fashion colors. The black color has a strong stain and can withstand up to 20 washes.
Pros
Alcohol-free
Ammonia-free
Makes hair soft
5
Jet Black Henna Hair Color
Using henna to color hair has been a traditional way to pigment the hair or cover grays in many regions of the world. This organic hair color does not discriminate! It colors all shades of hair, including blondes, brunettes, redheads, and those with gray or white hair evenly. Jet Black Henna offers an amazing, dazzling black color. The darkest henna hair color adds ebony tones to black hair, enhancing it further, and raising the darkness of lighter hair to new heights. This is the color you desire if you want something rich and striking!
Pros
Conditioning
Adds shine
Boosts manageability
Helps with hair growth
6
Best Color With Natural Ingredients
Naturtint Permanent Hair Color Gel
Olives and meadowfoam seed oil are among the nourishing plant-based ingredients in this Naturtint Permanent Hair Color formulation. These components make the hair healthy, radiant, and soft while also moisturizing and strengthening it. It offers complete gray coverage and infuses a vibrant, lasting, and deep color into the hair. It is dermatologically tested and is proven to be mild on the scalp and skin. There are three shades of black available in this semi-permanent vegan hair dye — cool ebony black, warmer brownish-black, and blue-black. If natural is what you're looking for, your search ends here.
Pros
Vegan
Paraban-free
No artificial fragrance
7
Kiss Colors Tintation Semi-Permanent Hair Color
For those who want to be nonchalant about coloring their hair and don't wish to forgo the health of their hair, Tintation is a semi-permanent hair color treatment that ensures damage-free hair color. The dye has ingredients that maintain a healthy pH balance and repair the dead skin cells on the scalp. It has amino acids that accelerate hair growth and supply hair strands with protein. This product is also a great choice for people with damaged hair as it does not color the hair permanently, and only primarily colors the cuticle of the hair.
Pros
Maximum hydration
Contains collagen
Made with aloe water
8
Best Affordable
Clairol Nice'n Easy Permanent Hair Color
The Clairol Nice'n Easy permanent hair dye produces a striking black shade with a blue undertone by combining three different color tones in its formulation. It delivers complete gray hair coverage for up to eight weeks. Equipped with gloves, a blend activator, a color seal conditioner, and the color blend formula, the kit is comprehensive and allows for easy application. The color-sealing conditioning gloss that comes in the kit adds a brilliant shine to the hair while locking in the color pigments. It is made of special dye molecules, which provide deep, long-lasting color while lowering the possibility of allergies.
Pros
Affordable
Long-lasting
Complete coverage
9
Wella Color Tango Permanent Masque Hair Color
Wella Color Tango is a brilliant black hair dye that is permanent and fade-resistant. It is formulated with Moisture Embrace Technology that delivers intense moisture which carefully conditions each strand and provides long-lasting sheen and smoothness to it. This black hair dye for natural hair has a thick consistency that allows for easy application without creating a mess. The best part? It smells like mimosas! Who wouldn't want to smell like mimosas when covering up their grays! This color however is a little old-school when it comes to packaging. It comes in a rigid squeeze tube and needs to be applied using a bowl and a brush.
Pros
Quick results
Smells incredible
Pleasant fragrance
Conditions the hair
Cons
Application may be difficult
10
Smart Beauty Colour-plex Permanent Hair Color
As the name suggests, this is a really smart hair color that not just covers your grays, but also repairs and replenishes them. Smart Beauty permanent pure black hair dye has anti-break technology that ensures that no hair strands are martyred in this "operation black" (your hair color!). This product's Plex technology actually nurtures and rebuilds the micro-bond fiber structure of the hair, making it stronger and healthier. It rebuilds your precious hair's natural structure and guards it against any further damage, thereby enhancing the volume of the hair considerably.
Pros
100% vegan
Mineral oil-free
Cruelty-free
11
Herbatint Permanent Haircolor Gel
Herbatint hair color is every woman's dream come true. It is a hair color made with natural ingredients that deliver avant-garde results. Most of us, burdened with the fear of damaging our hair, seek natural remedies to color our hair, but home remedies are often time-consuming and messy. Herbatint offers all the natural goodness in a mess-free kit. It is a specially created herb extract that uses rosemary, cinchona, and walnut husk to gently deposit color, giving your hair a natural, fresh-out-of-salon appearance.
Pros
Easy gel formula
Organic ingredients
Dermatologically tested
How to Pick the Best Black Hair Dyes
You're probably on the lookout for the best black hair dye to stain your hair black, and you don't want to err.  Fret not, we'll tell you what to be mindful of when going for the best black hair dyes.  When selecting black hair dye, there are a few factors to take into account, including your budget, the brand, and the ingredients. 
Budget
Think about your budget. Not everything that is expensive is good and vice versa. Black hair dye can cost anywhere from $5 to $40, so it's important to find a product that suits your requirements and price range, keeping in mind the durability of the color.
Brand
Always consider the brand you're investing in when it comes to skin, hair, and nails. It's crucial to pick a black hair dye that is reputable and has positive reviews because there are many options available and you definitely don't want to be conned by a counterfeit brand that could do more damage than use.
Conditioning ingredients
Picking a black hair dye that won't damage your tresses is important because some black hair dyes contain harsh chemicals that can harm your hair. Whatever tint you decide on, look for ingredients that will condition your hair. Argan oil is a good ingredient to make hair shiny and smooth.
Type of hair dye
There are many different kinds of black hair dyes, including temporary, demi-permanent, semi-permanent, and permanent. The color black is a natural shade of color, unlike deep reds, blondes, etc,  so there are permanent color options available. Depending on how you want it to fade, you can choose a different type of dye. Select a permanent dye if you want to keep your black hair dyed for a long time. When the color fades, you only need to infrequently update the roots and restore the color.
Gray coverage
The dye must be deeply pigmented to be able to completely cover the hair from roots to lengths, without bleeding onto the skin or scalp. Gray coverage is an important factor to consider when selecting a hair dye
Safety
Make sure to read the ingredients list before committing to a dye. If you're getting your hair colored at a salon, it would be better to get a patch test or enquire about any allergens in the hair color. So that it does not irritate your scalp.  Avoid using hair dye that contains harmful chemicals, even if you don't have any allergies. If you find names like lead acetate, methylisothiazolinone, or DMDM hydantoin, abort the mission!
There are many different black hues and undertones to choose from, including warm black, solid jet black (if you want the deepest black), blue-black (which has cooler undertones), and more. If it's the first time you're dying your hair black and are unsure which shade you want, choose a demi-permanent color that fades over time if you aren't ready to commit to a permanent shade.
How to Use Black Hair Dyes
Once you have chosen your hair dye, the next step is to apply it rightly to yield optimal results. Here's how you should apply black hair dye. 
1. Protect the Skin
We know you want to color your hair but we are well aware that you don't want to get any stains on your clothes or your skin in that process. To avoid any unwanted color on your clothing and skin, apply a thick layer of petroleum jelly to any area that might come into contact with your hair or the dye to prevent stains on your forehead, cheeks, and neck. When you are finished coloring your strands, you can easily wipe off this protective layer. It would be wise to wear clothes that you don't mind getting dirty as well.
2. Part the Hair
Make sections in your mane next. Create more controllable, smaller sections in your hair. Your hair's thickness will determine how many sections you should make– the thicker your hair the more section you need to make.  Use a claw clip to secure the rest of your hair out of the way while leaving just one section hanging free, to begin with.
3. Mix the Color
Follow the instructions to the T and mix the hair color as advised on the pack. Rubber gloves can be worn at this time to protect your hands as well. 
4. Apply the Hair Dye
Applying hair dye when the hair is dry yields the best results. Some may even dampen their hair lengths. But, too much moisture might prevent the dye from locking into the hair. Working in sections, apply the color as instructed. Make sure you have covered your hair in ample color and that no spots are missing.
5. Wait and Rinse
When your hair is completely covered, wait the allotted amount of time for the color to develop. Never overdo the waiting game because some colors may cause allergic reactions. After the designated time has passed, thoroughly rinse your hair. Unless the hair dye you're using specifies otherwise, you shouldn't wash your hair with shampoo. However, you should continue with a conditioner, which at-home color kits frequently include. It locks in any lost moisture. Voila, you are ready to rock those dark, shiny, tresses!
Although black hair dye is a well-liked beauty product, some people wonder if it is more harmful than other hair dyes because of the intense color. Thanks to the advances in the beauty industry, there are now a lot of natural black hair dyes available on the market that don't use harsh chemicals. In addition to being safer for the environment, these dyes are less likely to harm our valuable hair. Take cues and tips from the list above and make sure to carefully read the label when selecting a black hair dye to make sure you are getting a high-quality product. We're sure you're dye-ing to start coloring your hair!
Author BIO
<p>An M.Sc graduate in Biotechnology, and an avid foodie, Varsha decided to pursue her interests further with a CDP-cert More
FAQ's
Is professional black hair dye better than box dye?
Professional products have better strength, but box colors of good quality, when applied properly, do the job.
What is the longest-lasting black hair dye?
The best hair colors last anywhere between 6-8 weeks.
How do you keep black hair dye from fading?
Utilizing shampoo and conditioner made specifically for colored hair is one way to help prevent this. These products help to keep the color in place and prevent it from fading.
What skin tone does black hair look good on?
Black hair looks good on all skin tones.
How often should I dye my hair black?
If you're using traditional permanent dye, try to limit your dyeing to every six to eight weeks to prevent damaging your hair.
Is it hard to maintain black hair color?
It is easy to maintain black-colored hair if you take care of it.
Why Trust select
Our product experts study the specifications of every product we suggest and try them out to bring what's proven to be worthy of your money, time, and energy. We also have subject matter experts from various fields like Fashion, Skincare, Haircare, Home Decor, and Health & Fitness onboard to make sure our suggestions are credible and trustworthy. You can trust select to be your faithful shopping guide for all the right reasons!