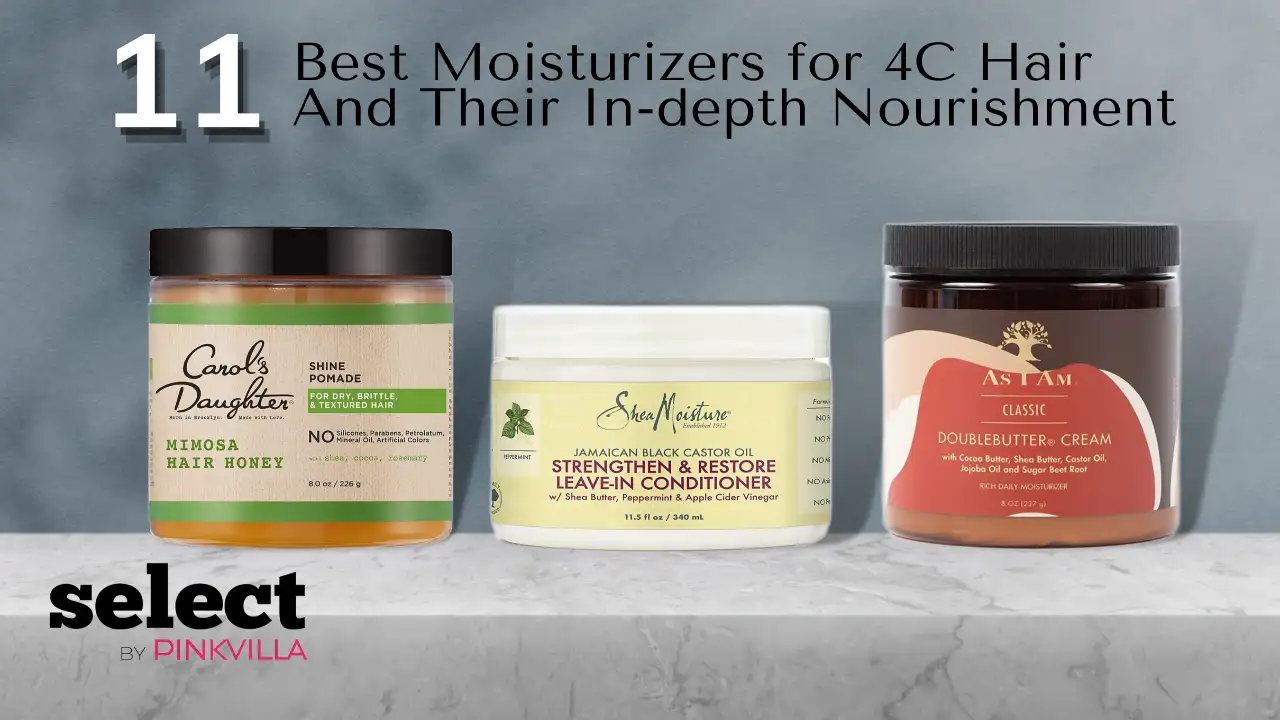 The products curated for this article are independently chosen by the
editorial team. If you make a purchase through the links mentioned below, we may receive a commission. Check out our product
research & curation process
There are three types of curly hair — wavy, curly, and coily. Each of these types is divided into 3 categories. Coily hair consists of 4A, 4B, and 4C types. Out of these, the 4C hair type deserves utmost care, attention, and pampering. 4C hair can seem a little difficult to manage, but with the best moisturizers for 4C hair, you can change the scenario. Moisturizers are the key to nourishing them from root to tip. Loaded with nutrients, they effectively hydrate and detangle your hair, leaving them shiny and glamorous. Incorporating them into your hair care regime and using them with dedication can help you make your 4C hair healthier.
Trichologist Stephanie Sey says, "Scalp health is the most important part of your hair care routine. Strong and healthy hair begins within the scalp, and new strands of hair being formed need a great environment to emerge from. Secondly, exfoliating with a tangle teaser scalp exfoliator helps in attaining a great scalp as it aids in removing stubborn buildup and dead skin cells." So, apart from moisturizing, you must also indulge in exfoliating your hair.
So, to ensure the good health of your mane and make your 4C hair behave, rely on the best moisturizers for 4C hair. Peep into our comprehensive list of the best daily and leave-in moisturizers, add them to your cart, and wait until they showcase their effectiveness along with your shampoos and conditioners.
Best Moisturizers for 4C Hair Worth Investing In
Carol's Daughter MIMOSA HAIR HONEY is one of the best hair moisturizers crafted especially for dry, textured, and brittle hair. It is loaded with powerful ingredients such as shea butter, cocoa butter, rosemary, corn oil, nettle, red clover, annatto seed, lavender, and sage. This hair honey, renowned as a moisturizer, reduces itchiness, and takes good care of 2,3, 4's A, B, and C curl types. With no silicone, parabens, or petroleum, the honey lends you a citrus-smelling shine. In addition to hydrating the scalp, it also tames frizziness and controls hair waves.
Pros
No mineral-oil
Best styling aid
No artificial color
Smoothens edges
Lightweight formula
Suitable for daily use
2
Most Effective Ingredients
Shea Moisture JAMAICAN BLACK CASTOR OIL STRENGTHEN & RESTORE LEAVE-IN CONDITIONER
Despite being called a leave-in hair conditioner, it deeply nourishes your hair with three effective ingredients just like a moisturizer. As the name suggests, it contains Jamaican black castor oil rich in reparative omegas, organic shea butter that conditions your hair and scalp, and peppermint perfect for scalp stimulation. So, dealing with your 4C hair is no more a task. With its ability to shield your hair with a protective layer, this conditioner improves the appearance of split ends. Popularly known for nourishing and smoothing natural, chemically, processed, and color-treated hair, you shouldn't resist adding it to your shopping cart.
Pros
Sulfate-free
Cruelty-free
Detangles hair
Resits hair breakage
Supports hair elasticity
Also ideal for 3-curl type
Cons
Very strong scent
Might not suit low-porosity hair
3
Best Hair Damage Protection
Cantu shea butter LEAVE-IN CONDITIONING REPAIR CREAM
Indulge in the most soothing and an invigorating experience with shea butter LEAVE-IN CONDITIONING REPAIR CREAM from Cantu. Even though it's labeled as a leave-in conditioner, it follows the path of a moisturizer that promises 100 percent protection from hair damage. It contains no drying alcohol or silicone. No matter what hair type you possess, this conditioner enriched with shea butter, argan, natural, and essential oils also works wonders on relaxed, natural, textured, permed, and color-treated hair. It is a cruelty-free hair care essential that minimizes hair breakage and strengthens your hair strands, leaving a fabulous shine.
Pros
Adds elasticity
Refreshing scent
Best for daily styling
Suitable for leave-in hair treatments
Cons
Not suitable for vegans
Comes with no protective seal
4
Best for Dry Hair
AS I AM CLASSIC DOUBLE BUTTER CREAM
When your curly, dry, damaged, and coily hair loses its moisture, this AS I AM CLASSIC DOUBLE BUTTER CREAM is what you need to turn to. It is a daily rich moisturizer formulated with cocoa butter, shea butter, castor oil, jojoba oil, and sugar beet root that strives to soften and smoothen curls and coils thoroughly. So, without a doubt, splurge on this buttercream and let its emollient blend of organic oils and finest butters transform your rough twist-outs beautifully.
Pros
Locks in moisture
Repairs split ends
Combats dryness
Great creamy consistency
5
Best for Improving Manageability
tgin BUTTER CREAM DAILY MOISTURIZER
Graced with shea butter, sweet almond oil, cocoa oil, and vitamin E, BUTTER CREAM DAILY MOISTURIZER from tgin is one of the best products to give your hair strands the moisture and nourishment it craves. With the ability to reduce flyaways and frizziness, this is a must-have haircare product for 4C hair that ticks all boxes. It adds shine, improves hair texture, and manageability, and most importantly promotes hair growth.
Pros
Sulfate-free
Paraben-free
No artificial colors
Great for hairstyling
Best for textures hair
Suits low-porosity hair
6
OKAY Black Jamaican Castor Oil Leave In Conditioner
Maintaining 4C hair is difficult if you do not own one of the best shampoos and conditioners that is cruelty and sulfate-free. And, when it comes to conditioners, make sure you invest in a highly moisturizing and growth-promoting conditioner just like OKAY Black Jamaican Castor Oil Leave In Conditioner. Loaded with the goodness of black Jamaican castor oil, fatty acids, omega, vitamin E, shea butter, and argan oil, this hair care product makes you experience salon-like conditioning treatment for all hair types and textures. Be it brittle or damaged, this conditioner moisturizes them in and out, replenishes the scalp, and makes 4C hair pretty manageable.
Pros
Adds luster
Lightweight
Makes hair thicker
Works like moisturizer
Structures hair follicles
Improves blood circulation
7
Maui Moisture Smooth & Repair + Vanilla Bean Hair Butter
A rich, creamy, and lush moisturizer has all hearts, and it is worth adding Maui Moisture Smooth & Repair + Vanilla Bean Hair Butter to the cart for a refreshing hair conditioning experience. The butter's explicit composition of ancient Hawaiian secret Kukui nut oil, vanilla bean, and cocoa butter is a boon for those possessing coarse, tight curls, and thick, and natural hair. You can also feel the restorative lightweight formula and humidity-resistant properties are backed by the effective powers of aloe vera. Thus, this is one of the best sulfate-free moisturizers that contain no parabens, silicones, gluten, synthetic dye, or mineral oil.
Pros
Vegan
Smooth texture
Tames frizziness
Pleasant fragrance
Detangles thick locks
Safe for color-treated hair
8
DESIGN ESSENTIALS ALMOND & AVOCADO Daily Moisturizing Lotion
The hair-enhancing properties of jojoba, almond, olive, and avocado oils are wedded to each other in this ALMOND & AVOCADO DailyMoisturizing Lotion from DESIGN ESSENTIALS. In addition, this lotion is also infused with cocoa butter and wheat protein so that your hair doesn't fall short on nutrients, proteins, and nourishment. It fights frizz and makes your hair healthier. When used daily, this hair lotion revitalizes dry and drab waves, twist outs, curls, and coils, without weighing your hair down. While the ingredients work towards hydrating the hair shafts, other formulas seal the cuticles and prevent damage.
Pros
Adds shine
Sulfate-free
Paraben-free
Super lightweight
Safe for everyday use
Best for 2A to 4C curl type
9
Lotta Body with Coconut and Shea Oils Moisturize Me Curl & Style Milk
Lotta Body with Coconut and Shea Oils Moisturize Me Curl & Style Milk is sheerly loved for its curl-defining and frizz-fighting abilities. It is crafted for all hair types and works religiously towards providing moisture and shine. This milk hydrates and deeply nourishes your hair. Since it helps you in bidding a brief goodbye to tangles, you just can't resist incorporating this beautiful hair-conditioning product into your daily routine. Talking about its ingredients, this product contains olive, sunflower seeds, and avocado oil to leave your hair unbelievably lustrous and manageable.
Pros
Smells great
Adds bounce
Controls curls
Softens the hair
Cons
Too thick to dispense from the pump
10
MIELLE ORGANICS POMEGRANATE & HONEY CURL SMOOTHIE
Hydrating and moisturizing creams are a must-have especially when you find yourself in a fix to styling your kinky and coily hair almost every day. But let us tell you that MIELLE ORGANICS POMEGRANATE & HONEY CURL SMOOTHIE is what you need to invest in. It is one of the best hair care products crafted especially for type 4 curly hair. For attaining a soft definition and enhancing the look of your tight curls, this curl smoothie is your hair's superfood. It is infused with honey, pomegranate extract, and babassu oil for healthy styling. The best part is its beautifying and hair-strengthening powers that lay a coat of long-lasting moisture onto your hair.
Pros
Simple to use
Soothes frizzy hair
Helps in detangling
Suitable for daily use
11
Aunt Jackie's Curls and Coils FLAXSEED RECIPES Seal It Up – HYDRATING SEALING BUTTER
Specially formulated to prevent and repair damaged hair, Aunt Jackie's Curls and Coils FLAXSEED RECIPES Seal It Up – HYDRATING SEALING BUTTER promises excellent hair care therapy. It is power-packed with the graciousness of shea butter, avocado, castor oil, omega fatty acids, honey, and flaxseed. In addition, this butter effectively hydrates your hair and prevents thinning and shedding. Trust us, there is no better moisture remedy for 3A to 4C curly hair type than this.
Pros
Prevents split-ends
Prevents hair breakage
Oil-based moisture therapy
Best for styling braids and twists
While you look forward to new hair care trends every year, always strive to protect your 4C hair with the right amount of proteins, moisture, and hydrating nutrients. To help you pick the best of all, we have got you the most useful buying guide. Scroll down and check it out.
Factors to Consider When Buying the Best Moisturizers for 4C Hair
Shampoos for 4C hair might be effective, but your hair needs extra moisture and hydrating formula to look healthy and manageable. Here are a few aspects to look at before buying a moisturizer for your 4C hair.
Hair Type: Understanding your hair type is the first and the most crucial step to consider before buying any hair care product. There are moisturizers specially formulated for coily, kinky, curly, and wavy hair. To be more precise, brands have introduced moisturizing butters and hydrating leave-in creams, lotions, and conditioners for a dedicated curl type. Moisturizing butters work wonders on frizzy 4B and 4C hair. Check whether you possess 2, 3, or 4 curl types and understand your hair porosity. 
Hair Porosity: The next step is to analyze the porosity of your tight curls. Low-porosity hair takes time to absorb moisture, whereas high-porosity hair absorbs it in a jiffy. Your hair's porosity thus decides whether it can absorb the moisturizer quickly or not. This also depends upon the texture and consistency of the hair care product you choose.  Those possessing low porosity hair must avoid heavy oils and moisturizing butter. 
Ingredients: Whenever you look for a moisturizer for 4C hair, always pay heed to the list of ingredients. The more hydrating ingredients, the better the results. The ingredient list should contain ingredients like shea butter, cocoa butter, reparative omegas, argan oil, essential oils, castor oil, jojoba oil, vitamin E, olive, sunflower seed, and avocado oil.
Formula: Always stick to a lightweight formula that does not leave residue or any kind of buildup. Make sure you choose products that feature a hydrating, reparative, and moisturizing formula for an instant dose of hydration. It is also advisable to vouch for a hair care cream or lotion that is vegan and loaded with antioxidant properties. For extremely curly hair, stick to a humidity-resistant formula to bid adieu to scalp itchiness. 
No to chemicals: Ensure that your moisturizers contain no sulfate, paraben, gluten, alcohol, or any harmful chemical or toxins that will weigh down your hair. 
Directions of Usage: Always read the directions of usage mentioned on the product. Some moisturizers are meant for everyday use, whereas some are supposed to be used after a hair wash weekly. 
Once your moisturizer ticks off all boxes, you are all set to make a payment. For those who don't know the right method of using one, no problem! We have got you covered.
How to Moisturize Your 4C Hair?
For an intensive hair care routine, make sure you trim the ends of your hair at least once a month. You must also lessen heat exposure and sleep on a satin cushion cover. Following are the steps to moisturize your hair inside and out. 
Step 1: Wash your hair with the best shampoo for 4C hair. Make sure you do not overwash your hair. Cleanse your hair thoroughly or seek the help of a tangle teaser scalp exfoliator brush to get rid of flakes or buildup if any.
Step 2: Apply a conditioner and rinse your hair. You may also use a leave-in conditioner daily to seal the moisture and natural oils of your hair.
Step 3: When your hair is damp or dry, take a sufficient amount of moisturizer in your hand. Rub the palms together and gently apply the moisturizer all over the hair. Concentrate on the tips of your hair.
Step 4: Use a wide tooth comb or soft bristle brush. Gently begin to comb through the hair from root to tip.
Ladies with 4C hair type hear us out! These best moisturizers for 4C hair are worth the value. They are not just mere hair care essentials, rather they are the real game changers. Be it a hydrating butter, cream, conditioner, or lotion, all of these products follow the path of moisturizers. With the goodness of natural and hair-enhancing ingredients, oils, nutrients, and proteins, they go the extra mile to tame frizziness and prevent hair breakage. Not just that, your tight curls and twists out often need an extra dose of nourishment, no matter how religiously you follow an intensive hair care regime.
Author BIO
Ankita is a budding journalist and a certified fashion expert. If the Fashion police were an official organization, A More
FAQ's
What should I moisturize my 4C hair with?
Moisturize your 4C hair with moisturizers that are rich in essentials and natural oils. Jojoba, avocado, castor, olive, and coconut oils work well on 4C hair types.
Should I wet my 4C hair every day?
Yes, you may. This helps in keeping your hair moist and hydrated.
How can I make my 4C hair soft and silky?
Use the right shampoo, conditioner, and moisturizer. It is recommended to stick to hair care products that are a rich source of proteins, and nutrients, and loaded with hydrating properties.
Does moisture help 4C hair grow?
Yes. Moisture promotes hair growth and enhances scalp condition.
Which is the best product to use on 4C hair?
Carol's Daughter MIMOSA HAIR HONEY, Shea Moisture JAMAICAN BLACK CASTOR OIL STRENGTHEN & RESTORE LEAVE-IN CONDITIONER, AS I AM CLASSIC DOUBLE BUTTER CREAM, and tgin BUTTER CREAM DAILY MOISTURIZER are the best products to use on 4C hair.
Why Trust select
Our product experts study the specifications of every product we suggest and try them out to bring what's proven to be worthy of your money, time, and energy. We also have subject matter experts from various fields like Fashion, Skincare, Haircare, Home Decor, and Health & Fitness onboard to make sure our suggestions are credible and trustworthy. You can trust select to be your faithful shopping guide for all the right reasons!