Sentinel Joseph and Barry Ann George

Our society cherishes the idea that everything should be fine all the time. From the (fake) perfection expressed on social media to society's expectations of conformity. The image of a buttoned-up, well-adjusted, and put-together person is an ambitious goal, but a far cry from life's troubling reality.
Suffering, trauma, loss, fallibility and weakness are more common than ideals presented by the outside world. Perhaps we can find comfort, understanding, even refinement and grace in our weaknesses and shortcomings.
The Carlyle Arts Learning Center (CALC)'s current exhibition, Beautifully Broken, explores life's flaws and failures through the artistic process. This year's jury exhibits represent the experience of the creative community in observing imperfection. Seeing beauty in our own conflicts, whether in our personal lives or dealing with social issues, and remaining optimistic in the face of obstacles helps us all explore our relationships. .
Thom Kulp's 'All My Dreams End This Way' is a mixed media work of haunting black and blue shapes pasted onto canvas. Somewhat jumbled and jumbled, Krup explains how it represents the "fragmented nature of aspirations and hopes." The subdued colors are accentuated with gold and copper, showing sparks that may not yet come from chaos.
In another mixed-media piece, Molly Goehring's Pieta II, created from the torn, sliced, and re-sewn remains of an abandoned oil painting, celebrates the messy and chaotic nature of broken hearts. According to Göring, "Pieta II" "explores the complex relationship between femininity, grief and Catholic faith."
She writes that, like Michelangelo's "Pieta," "women are encouraged to reflect their grief quietly and unobtrusively, swallowing their emotions for the comfort of those around them." A crude attempt to do so demonstrates a passionate desire to heal and make everything better.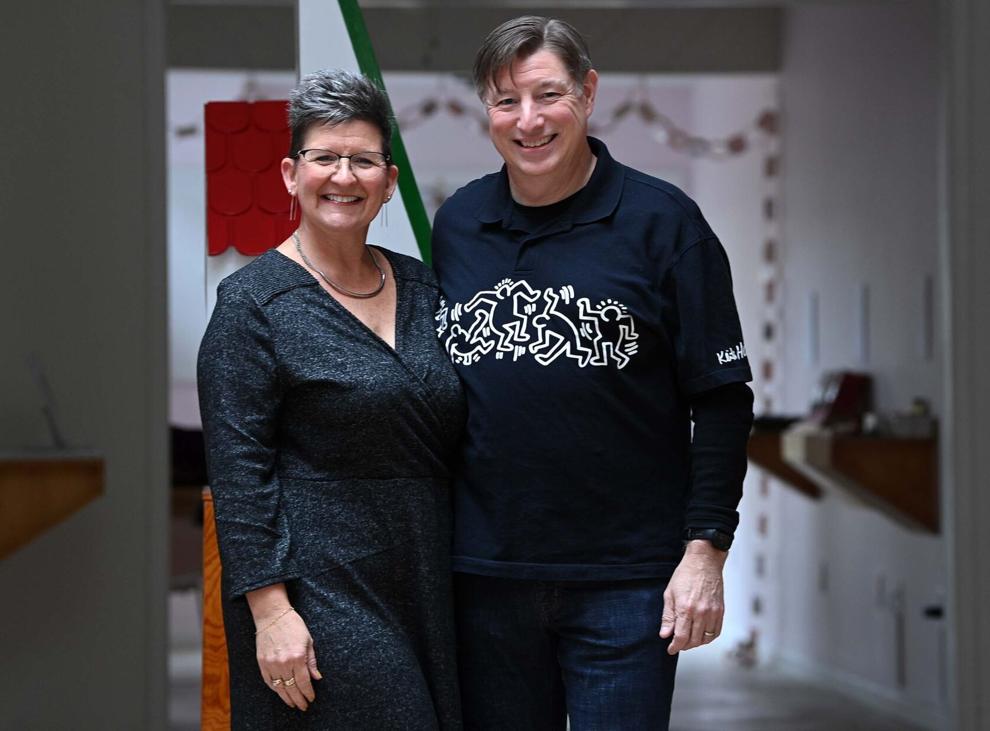 The 'Best in Show' honor went to Michelle Moats for her stunning fiber painting. The woman's face has been felt put back together from the broken pieces, a reminder of how fragile we are.
"This textile portrait was created in many steps," she said. She drew her facial features with needle felt and her beauty stood out. Like her face pieced together like a puzzle, the pieces blend together to create a beautifully intricate portrait.
John Garnera's "Construction" is a hand-crafted form of thrown stoneware, with Shino glaze sprayed with a carbon trap. This ceramic creation seems to remind us that one process may not always be the way to create. The cast piece didn't seem to succeed until it was added by hand and finally glazed with earthen glaze. Added to the surface. A reminder to keep adding and trying new things to heal the imperfections and find beauty in the broken.
Julia Briggs of Cleveland, Ohio brings her mixed-media sculpture "Priceless" to the exhibition. Here the woman appears to be falling apart, perhaps due to internal turmoil. However, in a nod to the Japanese art of repairing pottery, the sculpture is repaired with gold, making the imperfections more noticeable and stronger than before.
Briggs said: By embracing transparency, we want to show sensitivity and use emotions as tools to seek understanding on a common basis. "
Sarah Nguyen is a multimedia artist who usually works primarily with paper. In "Kris-In Memoriam" she created her lace with gold bobbins. This is an intricate yet delicate lace her textile made by weaving and twisting long threads. In this sculpture, pieces of lace hang overhead and appear to unravel when they reach the plinth. Its messages examine our notions of loss, grief, and impermanence of our human existence. The piece was inspired by an artist friend who "had done a lot in a short amount of time."
"Cutting Tides," an acrylic painting by Catrina Macias of San Antonio, Texas, shows a pair of sisters facing opposite directions with long black hair that seems to tie girls together. each holding a pair of scissors. For the artist, the idea of ​​'cutting ties' came from the realization that 'the family we were born into is never permanent. I have to leave my life behind and move on with my life." Both girls know they have to break up, but they don't seem to want to break up just yet. It's a bittersweet scene about moving forward and growing up.
"Broken Beautifully" is a chance to connect with others through our shared expressions of imperfection. will give you This does not necessarily equate to weakness, but it does provide an opportunity to acknowledge our own shortcomings and help each other through our own shortcomings. It reminds me not to deny it. Because it is in the details that one finds one's uniqueness and one's strength.
"Beautifully Broken" is on display at CALC until February 4th. Gallery hours are Tuesday-Friday 10 AM-5 PM and Saturday 10 AM-3 PM. CALC is located at 38 W. Pomfret St. He in Carlisle. The exhibition is free and open to the public. Visit www.CarlisleArts.org or call 717-249-6973.
Joseph George holds a degree in History and Art History from Dickinson College. He and his wife, Barrie Ann, have been together for over 30 years traveling and visiting art his galleries locally and around the world. They have been writing about his scene in the national and international art scene for ten years. Their hobbies range from fine art to street art.